Utah Home Real Estate Photography
There are a lot of photographers that service the Salt Lake area for Utah Home Real Estate photography. Quite simply- we are the best. That's not just us saying that- it's demonstrably true. We are the only local Home Real Estate Photographers in Utah to have won the Best of State award for Architectural Photography…. and the only one to have been recognized in the PFRE Monthly contest for Real estate photography… and we have won both more than once.
You are a professional, and you know the value of a professional service provided by someone with experience and the equipment to pull it off. And your time is valuable- you don't have the 4-6 hours we we take shooting a home, but you still want that look. That is why you hire R/E Media to shoot Utah Home Real Estate photography.
You don't want your Utah Home Real Estate photography to just stand out, you NEED it to stand head and shoulders above your competition. Your customer's first introduction to your property will be through the Internet. And first impressions count! If you want to get noticed, you need to use images that stand out, and that grab attention.
What Sets Us Apart
We Are A Local Company– we live and work in Utah
Personal Attention– we are not an impersonal company headquartered in Virginia
Professionalism– Great home photography is what we do…. not something we play at
From HDR to Editorial Quality Images– The Quality you need at the price you want
Video, Reels, 3D Tours– Media packages that specialize in extras you want
Award Winning– Best of State, PFRE awards for Home Photography
Great Reputation– 5 Stars across all Social Media
Trusted & Affordable– Just look at our reviews
Easy To Work With– We work for you
24-hour Turnaround– Your time is precious
Upfront Pricing– You know your full cost going it; its posted on our site

Yes, we may cost a bit more than some of our competition, but you get what you pay for, don't you? We spend a lot of our time reshooting other company's mistakes…. and that is a LOT more expensive than going with the best first.
Deluxe Home Real Estate Photography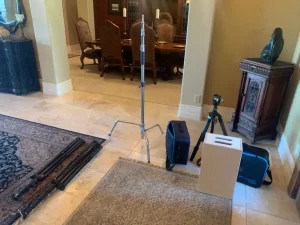 You need someone with the experience shooting 100's of Utah homes, and knows how to frame a present a home in it's best light. And speaking of light, you need someone who knows light and how to use it… and who brings in all the lighting equipment they need to make a room sing. You can show a room in natural light, but you need to light a room to show off a room.
Camera and angle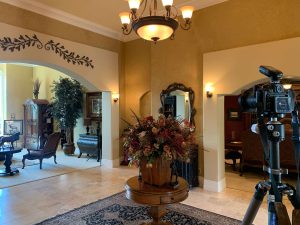 Here's a pretty graphic look at what we can do for you. These are shot with an iPhone xR, so a top of the line iPhone. As you can see, the iPhone does not get nearly the coverage our lenses do. What I notice is the walls are not straight- something you will NEVER see in our images. Also note the color- it's horrible. The room the camera is in is too yellow, and the far room is too blue from the window light.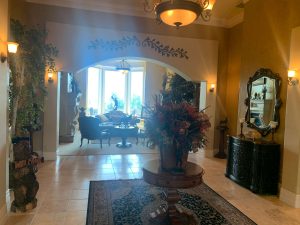 And here is what you get with the iPhone. Again, the walls are askew. There is no area of good exposure, just dark areas and blown out windows. If your house has a view, this window does nothing for you. And be honest, as a home viewer, does this image do anything to make you want to look at more images? I thought not!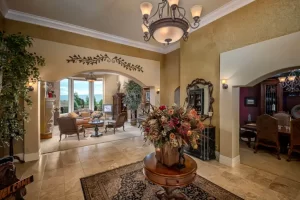 Here is our final image- compare it to the iPhone image. Its more than just wider in scope. The color is better. The light is balanced- no burnt out overblown highlights or dark pools of shadow. And the colors are bang on correct. But we do more than that- look how the walls (and the pictures on them!) are straight. And the windows- try and do that on an iPhone.
Quality Images Work
We know our images speak for themselves. They stand out. They grabbed your attention, right? And out images will do the same to your customers. Put our pictures next to the ones you shot with your iPhone… there is a difference! But just taking the pictures is not enough- it is also the post processing we do. If you take your own pictures, you probably do no post processing at all. For us, that is half of our job. Take a look at what we do after we take your photos….
All of our best, high-end photography, aerials, editing and compositing for MLS listings PLUS the full marketing kit is all yours at $175 plus 5 cents a square foot, with a 1000 sq ft minimum. We take care of everything else, and just send you the finished, MLS-ready images in 48 hours or less!
Customer Service
Even the best photography means nothing if the person shooting it is a jerk. We feel we provide customer service that is second to none not only in Salt Lake City, but across the nation. We never forget who we work for, and who we need to please- you.
Our customers swear by us, not just for our results but also for how easy we are to work with. Realtors trust us to interface with their home owners without being present, and we never let them down,. We even have customers who fly us in to their new homes in other states because they know they can count on us.
Read our online reviews- yes, them mention the quality of our work. But they also point out how much they trust us, and how easy we are to work with. That is a badge of honor to us. You can count on us to do the job on time, on budget and to the highest standards, or we will make it good to you.
---
At R\E Photography, the person who shoots your pictures will be the person who edits your pictures. As a result, if you need something special, you just ask. You will get personal attention. You don't have to hope that a photographer passes off your request to a photo editor across the US. At R\E Photography, you get personal attention.
To see samples of our current work, please visit our Real Estate Utah Home Photography Portfolio.
Ready to Go?
Let's Make Some Incredible Images Together....
Let us know when you need us, and where. We'll be right over!