Realtor Marketing
For the last couple years, even with no Real Estate Marketing expertise, anyone and everyone was selling homes. The market for home sales was wide open, and sales were easy. Today, the reality is a whole lot different. Many Realtors are falling by the wayside. The remainder- you!- are the professionals in it for the long term.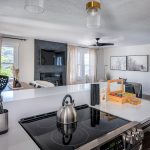 If there is one thing a professional knows, it is that you hire another professional to do a professionals job. You don't pull your own teeth…. and I don't sell homes. You already know the value in hiring a professional real estate photographer to shoot your images; it just makes YOU look better. Real estate photography is a specialty… you do not want someone who also does weddings and engagement photos, or only shoots homes as a side hustle.
You need more than that to stand out. You need a full marketing presence online. You don't just market the home, you market your abilities. One of my clients tells me he hires me not to sell this home, but to get his next home. It is that kind of forward-thinking Realtor we work for.
Why We Are Different
Real estate photography ids what we do. We pride ourselves on providing the best images you can get in Utah. Our numerous "Best of State" awards attests to that. But more importantly, we never forget who we work for- you. You need something special done, we are on your team. We pare your visual partner, someone you can count on to be there on-time, represent you properly, and return your product when you need it.
But we do more than that. We don't just want you to succeed, we want to make you stand above. And our level of photography goes a long way to doing that. But even with our standard package, you get so much more than anyone else delivers:
Drone footage (at no extra charge)
A Website just for your property
Images resized for most major social media
Contact Tracking
Virtual Photo Slideshow "tour"
As add-ons, you can customize extras as you need them, including:
Full video tour
Social Media 30 sec "reel"
Twilight Images
3D Matterport or iGuide Tours
Full Floor Plans
Custom requests
Why Real Estate Marketing is Important
How do your prospective clients know if you are the right Realtor for them? They either see a house you are marketing now (and are impressed with what you are doing), or they research your previous listings. How does your portfolio stand up? Are you going to sell new potential clients with your previous listings?
This is what we mean when we say you don't hire us to sell this house, you hire us for your next listing. You hire us to show off your professionalism. Let us help you take your Real Estate Marketing to the next level.
Realtor Success Rate
I do not mean to bring you down. But selling homes is a tough business. According to a study by the National Association of Realtors in 2020 (when things were hot, remember?), these were your averages for success among Realtors:
4% of Realtors working 2 years or less made more than $100,000/year
60% of Realtors working 2 years or less made less than $10,000/year
1/3 of ALL Realtors make less than $25,000/year
Realtors have a median career length of less than 8 years
Only 1/3 of all Realtors make it to 15 years
What does this tell you? It is a tough business. You need to market yourself to survive. You don't make it by cutting corners, you make it by being the best at what you do. And Marketing YOU should be a key component of your overall business plan. Successful Realtors know they need to represent sellers. And how do they attract sellers? They prove their worth and value to sellers with their track record of prompting previous homes.
Thats where we come in. Our strategic Marketing Kit puts it all together for you… A flashy website, customizable fliers, post cards and teaser videos and much more. Add in our award-winning, magazine-quality photography, and YOU look like a marketing genius. You win with this client, and you win with your next.
What Others Say
If you give any thought to your Real Estate Marketing, there are a lot of things you can do…. and a lot of things we can help you with. Forbes has a list of 23 marketing tips for Realtor, and these include: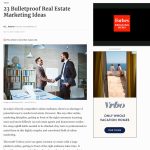 Build a Professional Website
Conduct 3D Matterport Scans
Hire a Real Estate Photographer
Create Video Walkthroughs
Engage in Content Marketing
Get Social on Instagram
Become an Expert In Your Niche
And here are more ideas from WordStream: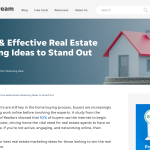 Have an impressive homepage
Create awesome listings
Hire a photographer
Create lead magnets
Set yourself up for social
Offer virtual tours
Build Yourself a niche
Notice any patterns? These are all things which we can directly help you with.
Let us be blunt here- good marketing costs a bit more than bland, quickie HDR images. Add in videos and the costs go up substantially. This is money you are investing in your business, and thus money well spent. The old saying is you have to spend money to make money is a truism here…. is your online presence worth it to you?
Lets Get In Touch
As you can see, your property photos can be so much more to you and your business than just images of a property you are selling. And your photographer should be much more than someone who shows up, takes a couple pictures and sends you finals the next day.They should be your partner.
Thats what we are- your marketing partner. Give us a call, text or email today… or get an online quote and schedule a shoot today!