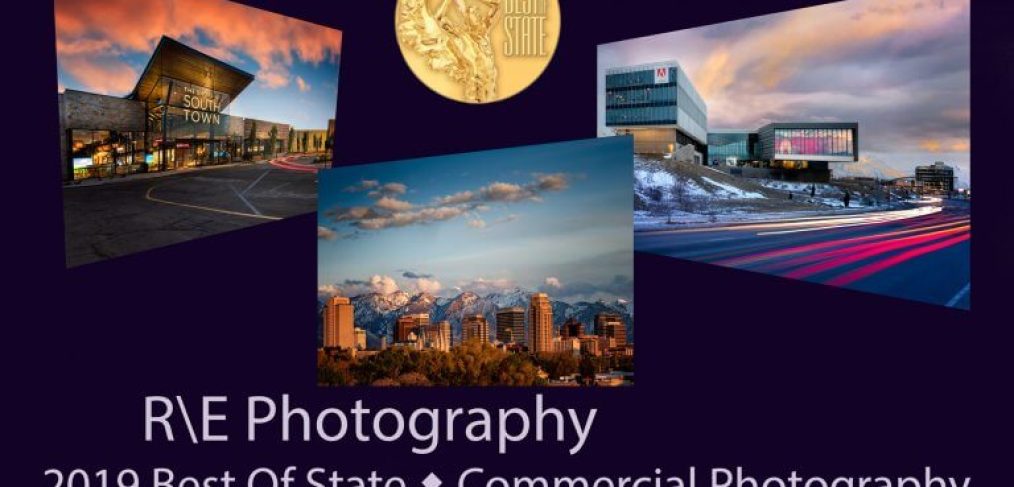 R\E Photo Wins Best of State Commercial Photographer
Dave Koch, owner and chief photographer of R\E Photography UTAH, is honored to win two 2019 Best of State awards for his continuing commitment to provide a highest standard of photography in both the Commercial Photography and Nature Photography fields. The awards were announced this morning and will be presented at the Best of State Gala on June 12th.

Founded nearly 6 years ago, R\E Photography UTAH began serving 100's of home owners and Realtors along Utah's Wasatch Front as a fast, reliable source for high quality MLS and real estate photos. While continuing to produce the highest quality real estate photography we have grown to include the commercial photography field, including product, architectural, multi-family home, aerial and construction photography. With commercial clients like The Shops at South Town, Cubes Self Storage and Marcus Millichamp, the commercial and architectural field is where the company's work really shines.
"We are humbled to receive these honors" said chief photographer Dave Koch, "We have been growing each year, and our bottom line has always been to provide beautify imagery. The recognition means we are accomplishing that goal and pleasing our clients."
R\E Photography UTAH is a leader in Utah commercial, architectural and real estate photography, and is fast becoming the trusted go-to for professionals who need good imagery- fast and affordable. Clients can look over portfolios of previous work, learn more about what we do, or book us directly on the company's website at https://CommercialPhotographyUtah.com or https://PhotoSLC.com, and call or text at 801.819.8141.