R\E Media Wins Photog of the Month (August)
Dave Koch Wins Photographer of the Month
It's always a thrilling moment when your work is acknowledged, and this time, it's truly an honor! My photograph, capturing the intricacies of an outdoor living space in a Draper home, was proudly selected as the "Best of the Month" for August by PFRE in the "Daylight Exterior" category of their Photographer of the Month competition.

The image, created in September 2022, was not a spur-of-the-moment capture. Instead, it was a meticulously planned commission by the construction company responsible for bringing this masterful design to life.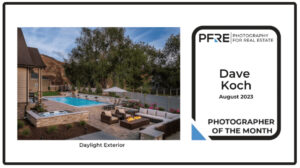 The primary allure of this space, both for the designer and myself, lay in its multi-tiered design. The genius of this layout was how it transformed a singular outdoor expanse into a tapestry of distinct, intimate pockets of luxury. Capturing this essence was paramount.
To ensure a vantage point that would reveal the detailed segmentation of the space, I opted for my tallest tripod. While the allure of using a drone was present, I felt it would compromise the image's resolution. My chosen perspective guides the viewer through a journey: starting with the warmth of the firepit, then leading to the serenity of the hot tub, and finally culminating at the sprawling pool area.
For those unfamiliar, PFRE (Photography for Real Estate) was founded in 2006 and has since become an indispensable hub for both budding and seasoned real estate photographers. Their contributions to the interior photography community are unparalleled, providing an array of educational resources, including a bustling community forum, an annual conference, and the much-anticipated monthly photo contests. These contests, open to global participation, serve as a platform for real estate and architectural photographers to showcase their talent. While participation is free, the accolades are invaluable.
In the past year, I'm honored to share that I've clinched the monthly contest title three times. Notably, I am the only photographer from Utah to have ever won this distinction even once (much less thrice!), setting a precedent in the state. Further elevating this honor was placing third in the coveted Photographer of the Year competition last year. These accolades stand testament to the unparalleled quality and experience R/E Media offers in Utah.
In closing, I'd like to extend my gratitude to PFRE for this recognition and to the construction company for entrusting me with capturing their vision. Here's to many more such collaborations and stories told through the lens!