Vacation Rental Photography
Is your property a cut above the rest? One primary way to distinguish it is through high-quality vacation rental photography. If your visuals don't captivate, you might be losing potential revenue.
Location…. Location… Photography?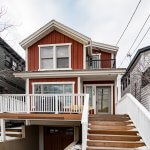 After location, potential guests identify photography as the pivotal factor influencing their accommodation choice. And while you can't change your property's location, you can certainly upgrade its photographic presentation. The impact of enhancing your images isn't just significant—it's immediate.
Our signature photography package, especially tailored for Vacation Rental listings, may come at a premium compared to standard packages offered by real estate photographers. However, cost does not always equate to value, especially when you are talking about images that will represent you for years to come. We provide a dedicated photographer with deep insights into the rental market, boasting years of experience shooting for Airbnb Luxe properties. This package transcends mere basics, venturing into what many in the industry would deem 'deluxe'. Rest assured, your property won't be lost in a sea of mundane, lackluster visuals typical of budget photographers; it will command attention and remain memorable. It will pay you back because it will get you noticed… and that is the value of a professional photographer. The result? More bookings, consistently.
According to Airbnb's research, professional-grade photos can boost bookings by up to 20% annually. So, if you're booking once a week on average, you could anticipate an additional 20 nights over the following year. Our pricing reflects the quality of our work and its potential impact on your bookings. With an investment equivalent to three nights' rent for a photo session, you can expect a net gain of 17 additional nights that year. Over three years—the typical lifespan of rental images—you're essentially investing one night to gain 19 more. That's a phenomenal return on investment.
AirBnB & VRBO Photography
You won't have to wait long for your enhanced vacation rental images. We typically schedule shoots within a week of booking. For your convenience, we've curated a succinct Vacation Rental Staging guide for vacation rentals. Our versatile Vacation Rental pricing structure ensures that there's a package just right for your needs. Curious about our short-term rental photography offerings? Click below to discover more and to jumpstart your vacation rental venture!
Ready to Go?
Let's Make Some Incredible Images Together....
Let us know when you need us, and where. We'll be right over!
Vacation Rental Photography Portfolio