Vacation Rental Photography
Does your property stand out from it's competition? Your Vacation Rental Photography is the one way you differentiate yourself from your competition online…. and if your images don't make you stand out, you are leaving money on the table… perhaps a lot of it.
Location…. Location… Photography?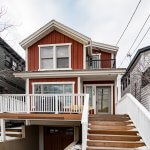 After location, vacationers say that photography is the most important determining factor in deciding where to stay. And unlike location, photography is the thing you can do something about. Not only does photography give you a great ROI, but the effects online are almost immediate.
We specialize in natural-looking, high-end photography. We craft your images so your rental show it's best side. Our effort for you takes time, but when your shots stand out against your competition you get more rentals- week after week, month after month, year after year. That is what we bring you- images that make your property stick in a renters mind.
Professional quality images have been shown repeatedly to increase AirBnB rentals up to 20% per year (according to AirBnB's own study). If you typically rent one night a week, you can expect to add 20 more nights over the next year. For our top-tier results, we charge based on your nightly rental…. the more you value your property, the more valuable our work is to you. Typically, for your investment of three nights rental for your photo shoot, you will gain another 17 nights that year. Over the course of three years- the typical lifetime of images in the rental market- you are only giving up one night and gaining 19 more. That is a GREAT ROI.
AirBnB & VRBO Photography
Turn around time on your Vacation Rental Photographs is pretty quick- we can usually schedule you within 7 days. We have created a short list to help you with your Vacation Rental Staging. We have a variety of Vacation Rental pricing, perfect for your Vacation Rental Photographs. Want to know more about what we offer in our Short-Term Rental Photography packages, and why its right for you? Otherwise, click below to get your booking up and your vacation rental business booming!
Ready to Go?
Let's Make Some Incredible Images Together....
Let us know when you need us, and where. We'll be right over!
Vacation Rental Photography Portfolio