House Photos by Dave Koch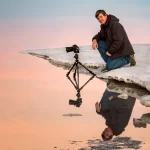 Before Dave Koch began taking house photos, from his teens he was expressing his joy of photography. Before he left high school, he had shot many shorts- and a full feature film!- on super 8mm film. Always one to experiment, he was known to try all kinds of strange things to find his inner vision, from lighting with flash lights to Vaseline painted directly on the lens.
After attending college at California State University at Northridge as a film major, Dave worked as a cameraman at the world-renown AFI studios in Hollywood, and worked with such well-known actors as Christopher Lloyd, Jennifer Jason Leigh, Andrea Marcavicci, and Phil Fondacarro.
From there, Mr. Koch took a job as a news cameraman at a CBS affiliate station. For the next ten years, Dave worked at raising his skills while shooting and editing film and video on a daily basis. In the course of those years as a news photographer, Dave Koch won many award for his photography, including a Golden Mic, many AP Awards, and an Emmy nomination.
More Recently
In recent years, Dave has enjoyed pursing grand landscape and travel photography, as well as Real Estate House Photos in Utah. The last three years have seen Dave's entries in the Utah State Fair place highly in many competitive categories, including a Judges Choice Award in 2013.
In 2015, we did even better. The year started off with winning the 2015 Nature Photography Competition and Exhibition at the Monte L. Bean Life Science Museum at BYU. At the Utah State Fair, we pulled in a second place, a first place, a Best of Show in Fine Art, and the Peoples Choice in Photography. It was quite a year!
In 2016, we returned to the Utah State Fair, and won Best of Show in Fine Art for the second styraight year.
In 2017, he placed First and Second in Landscape Photography at the Monte L. Bean Life Science Museum at BYU. He followed that by wining first place in the Utah State Fair in fine art, and being selected Best of State Nature photographer in Utah.
If you have used our service for house photos, first off, Thank You! We hope your experience was a pleasant one, and that you are happy with your pictures. You will find that our house photography of your Utah home will truly show off your Real Estate at it's best. We would appreciate you passing the word- to your friends, your neighbors, and to other Real Estate Professionals. And finally, please review us online- let people know what you think of our Utah House photos on FaceBook, Google Plus, KSL, Yelp and Houzz.
To see samples of our current work of house photography, please visit our Real Estate Utah House Photography Portfolio.
Recent Awards
best of state, utah, nature photographer, 2021
best of state, utah, commercial photographer, 2021
best of state, utah, nature photographer, 2020
first place, fine art photography, utah state fair, 2019
first place, architectural photography, utah state fair, 2019
best of state, utah, commercial photographer, 2019
best of state, utah, nature photographer, 2019
first place, architectural photography, utah state fair, 2018
second place, action photography, utah state fair, 2018
honorable mention, fine art photography, utah state fair, 2018
best of state, utah, nature photographer, 2018
first place, photography, sandy visual art show, 2017
march, 2018 Mountain America Credit Union Calendar, 2017
first place, fine art photography, utah state fair, 2017
second place, action photography (professional), utah state fair, 2017
second place, fair theme (professional), utah state fair, 2017
best of state, utah, nature photographer, 2017
light leader, photoflex, 2017
photographer of the month, the nature conservancy, may 2017
first place, landscape, byu bean life science museum, 2017
second place, landscape, byu bean life science museum, 2017
best of show, fine art photography, utah state fair, 2016
second place, other photography, utah state fair, 2016
best of show, fine art photography, utah state fair, 2015
peoples choice, utah state fair, 2015
first place, action photography, utah state fair, 2015
second place, creative art photography, utah state fair, 2015
first place, landscape (including hand of man), byu bean life science museum, 2015
judges choice, black & white photography, utah state fair, 2014
Recent Exhibitions
Landscapes, Blank Wall Gallery, Athens, Greece, Oct – Nov. 2017
One Man Show, Salon NV, Salt Lake City, UT, May – Sept 2017
Light Play Exhibit, blue line arts, Sacramento (Roseville) California, June 6, 2016 – July 9, 2016
Considering Creation Exhibition of Landscape Photography, White Stone Gallery, Philadelphia, Pennsylvania, June 3 – June 24
Pictured: The West's Most Spectacular National Parks, St. George, UT, June 11 – August 13th, 2016