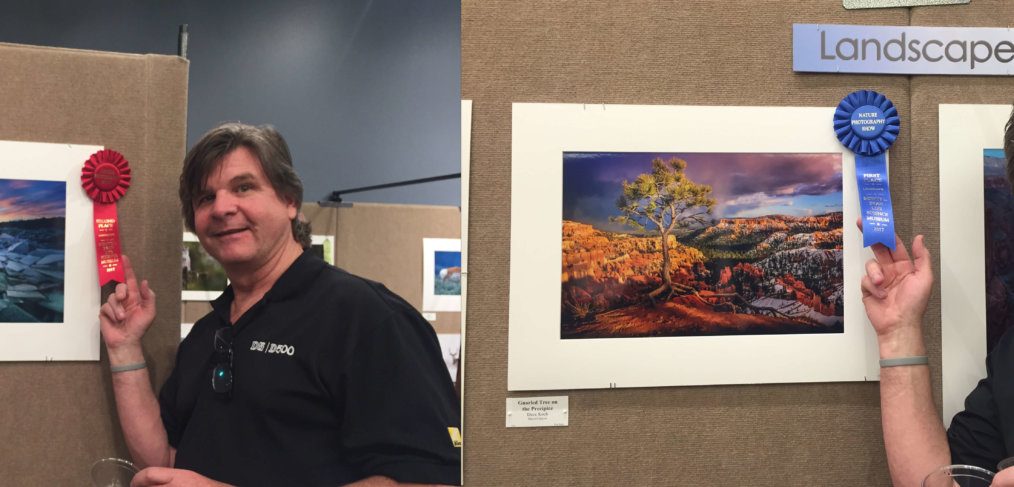 BYU Monte Bean Nature Photography Competition and Exhibition
Well I entered the BYU Monte Bean Nature Photography Competition and Exhibition again this year. I have a fondness for this one. Its close by, there is some serious competition, and it is the first real competition I have ever entered. Lisa pushed me into this photo contest two years ago. I got a call the morning the show opened telling me I had one first place that year, and I was astounded- I had never really won a competition before, much less won! So, yes, I find this photo contest real close to me.
This year I entered two pieces. One, Gnarled Tree on the Precipice, I entered in Landscapes. The second, Ice Floe, I put into the Water category…. because I thought Ice was like water, and the ice was the main subject of the piece (to me). One of the nice things about this competition is the quick turn around, from entry to results. I took the images down last Saturday, and by Thursday, the judging is done. Typically, someone at the Bean will call you if you have placed. So, needless to say, I was on pins and needles all day.
The unfortunate thing was I had an out of town shoot all morning Thursday. In Heber. No, in the hills ABOVE Heber. So I was completely out of cell phone coverage all morning. Which is, I guess, good, because I could then focus on my work.
So as I finished my shoot, the couple asked for some aerials of their property. I pulled out my drone, and set to work configuring it. I put my cell phone into thew controller, and I see I had a call. From Provo! I took that to mean I placed. I was real happy. I listened to the message, and that confirmed it- I was asked to come to the awards.
So Thursday afternoon, Lisa and I headed down to Provo. We had a nice dinner at a little Mexican place in Provo we just love, and headed to the museum. We got to thew auditorium and sat down, and the awards were all read out. It seems to me that the Landscape competition is about the last read… so I was just going crazy inside. Then they read out Landscape, and I placed Second for Ice Floe… which I had put in "Water". No matter, I'll take it- Second!
As I turned around to go back to my seat, the director of the Bean said, "Don't go so fast. You also placed First!" And so I did- The Gnarled Tree beat out my Ice Floe!
For me, quite a night! I placed First and Second in the same category. I am quite happy with the results, even if my entries did get moved around a bit.