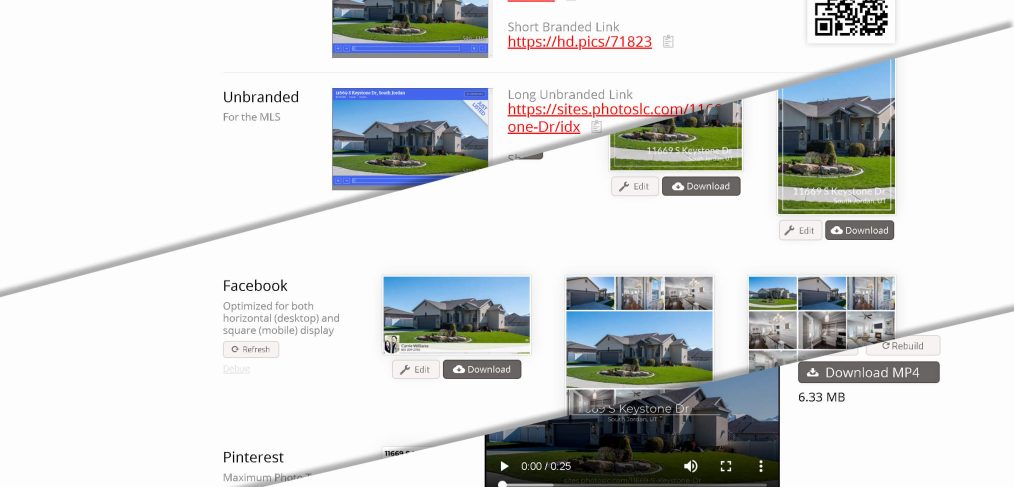 New Social Media and Video Marketing Kit
We have added important new functionality for real estate professionals in our premium photography packages. Now, in addition to the uncompromising images we continually win awards for, R\E Photography is adding a valuable new resource to make your job easier. Going forward, we are adding a social media and video marketing kit based on the images we shoot for you.

What does this mean for you? It means a lot less hassle and a lot more ways for you to spread your homes across social media and in front of your potential buyers. We start you off with a personalized website with SEO tuned to your property address. Branded and unbranded. Fully customizable by you.
What about social media images? We give you multiple formats for posting your message across Instagram, Facebook, Pintrest, LinkedIn and more- whether you want to promote a new listing, an open house, or the fact that you sold the property in 2 days, we have a huge variety of social media tiles just waiting for you to post and promote.
You want Video? We have you covered. As with the images, we provide multiple formats for a variety of uses- from 30 second teaser videos to full-length videos that show off your properties (again, branded and unbranded… and ready to post on the Utah MLS). Your property video can also be automatically uploaded to your YouTube account.
How about flyers? How does YES sound- download a PDF and print as many as you need!
And the cherry on top- want to capture drive-by leads? We give you a phone number and text ID to have people text to for more information. You can capture those phone numbers and get detailed traffic information from our property website
All of this comes to you with your beautifully composed and lit shots we are known for so you can hit the ground running with the best (and easiest!) marketing kit available in Utah.
So let's get to the Big Question: How much is all of this going to cost you? NOT A CENT- this addition, like all the other extras we pack into our premium package make it the Realtor's best friend- just set it and forget it. You call R\E Photography at 801 819-8141 and move on to what you do best. Because we mean it when we tell you we do it all for you!