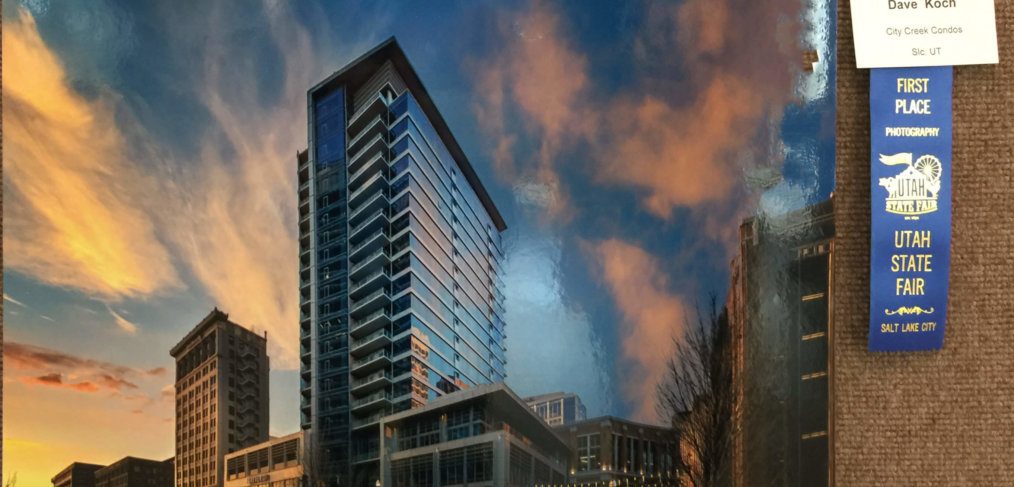 Architecture Photography First Place in Utah
As summer turns toward fall, people in the United States get up for the last big rumble of summer- our local State Fairs. Utah's Fair is no slouch, and has a tremendous competition, and a great variety of highly talented photographers contributing. This year, I was able to win a First Place for my architecture photography, in this case a condominium tower downtown I shot for PMI Property Management in Lehi, and Chelsie Blackledge.
This piece is a combination of probably 5 or 6 images to make this architecture photograph, taken over about an hour of time, and combined into a final image. The base layer was just an average exposure shot. Then I noticed a nice reflection of the sun off one of the buildings to the left, so I stopped down to get a sun star off that…. and that is a layer. Then I shot for a while to get a good sky…. probably 50 images over 20 minutes to get the image I used. I had to shoot a slower exposure to get the detail in the alley.
All of these image layers were combined manually to get the final image. But wait, there's more!
Once I had an image I was happy with, I needed to straighten all the lines and make it look right. Shooting with a wide angle lens- unless you are straight, flat and level- introduces distortion. Unless you have a tilt-shift, which I do not (yet!). o I probably spent at least an hour straightening and leveling lines in this. It was a lot of work, and not super noticeable…. but if you don't, the image has just a slight "off" look. Probably something that only a photographer would notice, but it is something I see, and I need to correct for.
What I am known for is shooting homes, real estate, commercial images and architecture, so if this is the kind of attention and detail you need for your photography, please reach out for first place images!